Today I'd like to call attention to a wonderful book I'm reading by author Tina Gayle.  BIRTH is the second book of her Executive Wives series.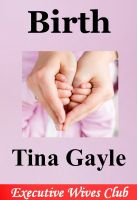 Brie Sullivan has a new baby girl and there are a million things to do, but Brie doesn't have the energy to keep up. Why? She's still grieving for her husband and suffering from baby blues, but she won't let that stop her. She's come up with the answer–find a new husband to be the father of her kids.
Jason Clark has been doing everything he can to help Brie. He loves her but can he accept her proposal of marriage knowing she's not thinking clearly about the future?